NK-YMJ001 Auto Coat Rack Ultrasonic Welding Machine
Used in the assembling and riveting of auto plastic interior trim parts and welding of plastic column riveting point, such as, auto door, auto bumper, dashboard, car truNEKON, glove box, coat rack, central console, decoration bar, etc.
Product name:NK-YMJ001 Auto Coat Rack Ultrasonic Welding Machine
Product model:NK-YMJ001
Production unit:Dongguan City South Nekon Machinery CO.,LTD
Upload time:2018/7/21 15:25:58
clicks :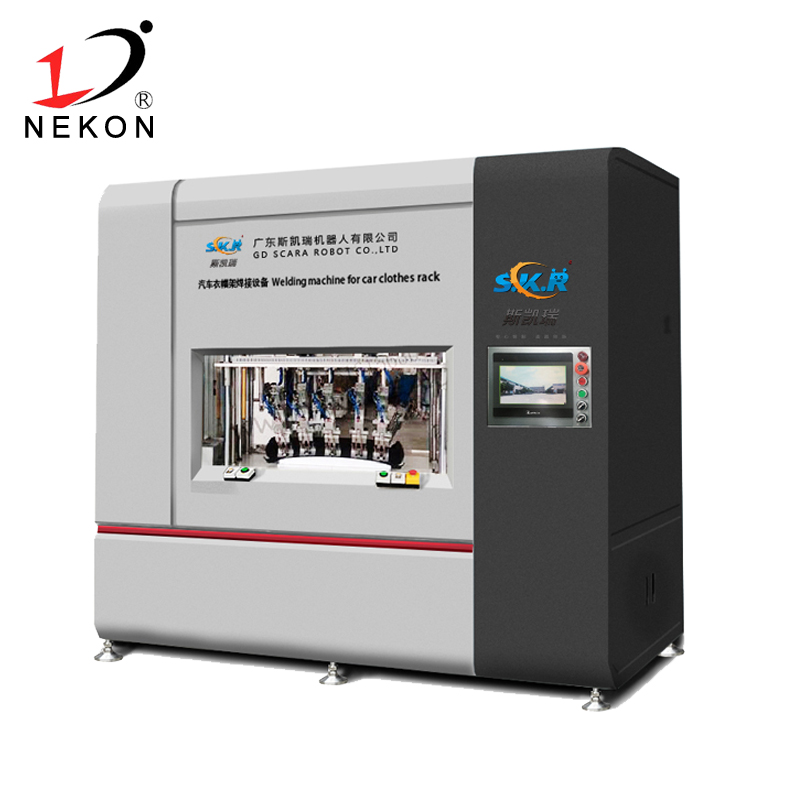 Product feature:
1. Adopted Japan's Mitsubishi PLC control system and SMC brand cylinder;
2. Adopted Swiss ultrasonic system, which is stable and efficient;
3. The equipment is easy to operate and safe, and can be operated by one person;
4. Welding parameters are set in the man-machine interface, parameterized adjustment, convenient and quick;
5. The solder joint is full, no glue, no drawing, single point pull force >20KG
DG SOUTH NEKON CO., LTD was founded in 1997, located in the beautiful Shipai Town in Dongguan City, Guangdong Province. South Nekon is a high technical private enterprise owing independent import-export operation rights. Since the establishment, the company has been devoted to optimization and integration of developing, producing, selling, and applicating of technology of ultrasonic machinery (Ultrasonic rhinestone fixing machine,face mask making machine, ultrasonic ribbon cutting machine, ultrasonic lace sewing machine, ultrasonic plastic welding machines, high frequency fusing machine). more than 10 years of experience in automation technology,South Nekon can provide full automation non-standard fabric sewing and cutting equipment according to the specail request. The company established its own brand "nekon", and the registered trademark is "nekon", we have more than 200 workers(more than 80 technicians and managers with college education). And the head company has an area of more than 10,000 ㎡with branch company around the main cities of China such as Wenzhou, Kunshan, Ningbo, Fujian, Zhongshan, Guangzhou, Foshan etc.
Model No.: NK-YMJ001
Size:1800X1400X2100mm
Weight:APPX 2000kg
Power:4KW
Power Supply:AC380V/50HZ
Air Source:0.4-0.7MPa
Welding Cycle
:
<40s/piece
The above parameters and configuration is for reference only, specific configuration by mutual agreement shall prevail
、